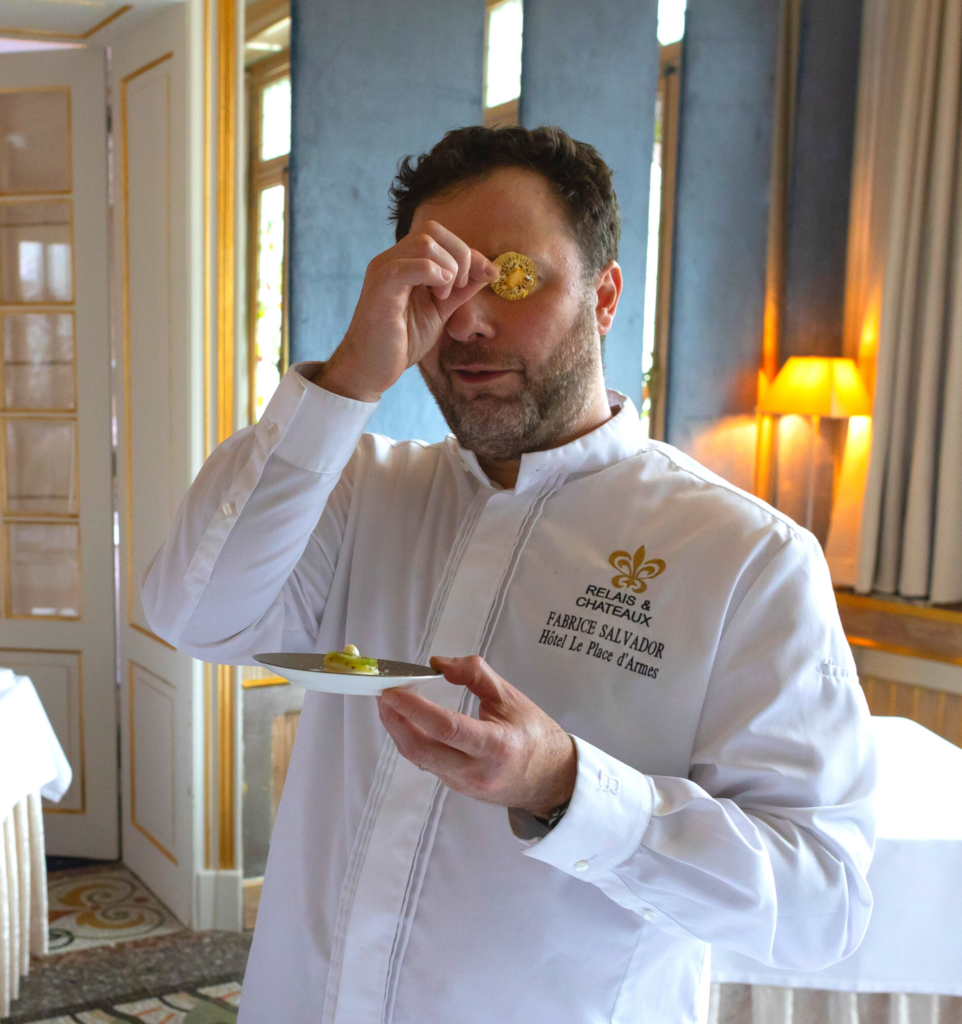 FABRICE SALVADOR
As if he was always travelling... with you
Fabrice was inspired and trained within some of the most prestigious French restaurants: l'Aubergade in Puymirol (3*), Les Jardins de l'Opéra (2*) in his native town of Toulouse, Troisgros (3*) in Roanne, les Trois Marches (2*) in Versailles and Michel Guérard (3*), in Eugénie-les-Bains. Then he lived what he likes to call his "American Dream" in New Orleans and Santa Barbara.
During these journeys he learnt how to match products of exception with the spices he was finding and so was born his very own style: experiencing the pleasure of discovering.
After assisting Hélène Darroze in her quest for the second Michelin Star in 2003, he was then named Chef of La Table du Lancaster in Paris, and received his very own first Michelin star.
Still looking for inspiring new flavors that he digs up, he will soon call his own restaurant located in Luxembourg "L'influence des Saveurs" (translation for the flavors' influence).
And just one year later he was rewarded again with a Michelin star.
Far away on the East side, he opened the "Manon" restaurant in Moscow. But seduced by the 18 Place d'Armes culinary project, he went back to Luxembourg. 1 hotel, 3 restaurants: La Cristallerie, Le Plëss, Le Café de Paris. A wild playground where he could express and share his very own Art and Passion.
OLIVIER SCHANNE
LA CRISTALLERIE MANAGER AND CHEF SOMMELIER
Recently awarded for the best wine list by the Explorator guide and nominated Sommelier of the Year 2017 by Gault & Millau, he had already been spotted by the regional Champérard guide ten years ago.
Olivier has always been passionate by the Wine. After a French career in several establishments such as Les Etangs in Manom or Laurent Petit's Restaurant in Annecy-Le-Vieux, he started as a sommelier and then as Restaurant Manager.
Titled several times in wine contests, he came third best sommelier of France in 1991 at the Master of Port in Paris.
Epicurean and always cheerful, Olivier loves the job. Sharing his last findings with the guests is one of the things he enjoys the most. Likewise with his passion, he regularly helps his coworkers know more about wine tasting and matching it with food.
Since 2012, at the Place d'Armes Hotel his main goal is to improve the general offer. He uses his own contacts and network in order to enrich the Cristallerie wine list with prestigious bottles, find unusual Crus for the Plëss Restaurant and match the casual Café de Paris atmosphere and food with good affordable wines.
At La Cristallerie, wines and Crémant from Luxembourg are mainly represented and have the particularity of being listed by villages instead of grape varieties.
So many things to be done with the great complicity of the Chef Fabrice Salvador.